For the past three decades, Lucas has been advocating his clients' interests in federal, state, and local forums. At Newman Ferrara LLP, Lucas represents landlords, tenants, asset managers, real-estate brokers, buyers, sellers, along with cooperative and condominium owners and boards, in a wide array of disputes -- with his accomplishments including a twenty-eight day trial which culminated in a multi-million dollar recovery for his clients.
In 2002, Lucas was appointed an Adjunct Professor of Law at New York Law School where he teaches both legal theory and the real-world application of the law to hundreds of tomorrow's lawyers. He also serves as Adjunct Associate Professor of Real Estate at New York University's School of Continuing and Professional Studies, where he leads a number of real-estate courses geared for non-attorneys. (His innovative work at NYU earned him that school's "Teacher's Excellence Award.")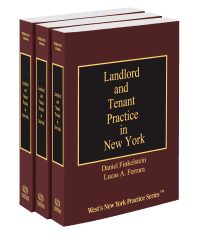 In addition to being regularly quoted by the New York Times and other media outlets, Lucas has written a number of essays and articles which have appeared in a variety of publications including New York Newsday, the New York Law Journal, and the New York State Bar Journal. He is the named co-author of the West three-volume textbook "
Landlord and Tenant Practice in New York
" and has contributed a chapter to West's "New York State Administrative Procedure and Practice."
Prior to his legal pursuits, Lucas was affiliated with the Mayor's Voluntary Action Center of the City of New York, where his efforts to promote community service by way of volunteerism were acknowledged by several New York City Mayors.
Lucas A. Ferrara has been selected for inclusion on the list of Super Lawyers® every year since 2007.
Recognized for his superior professional accomplishments, he is one of a select group of legal practitioners in the New York Metro area to achieve "Top 100" recognition.